Here's an oddity you may not have noticed unless you were following both the Royals and Giants closely this season.
To a large extent, when the Giants were on the rise, the Royals were moving in the opposite direction. And vice versa.
Here's a chart of their movements in the standings, from Game 1 to Game 162, indicating games ahead of their respective divisions.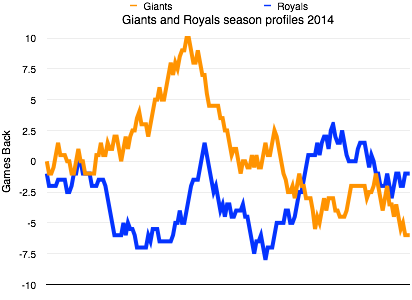 The Giants built a ten-game lead over the Dodgers in the NL West by June 8. At that point, the Royals were slowly turning things around after falling 7 games behind the AL Central leaders by May 20.
As the Giants' lead was rapidly eroding, the Royals rose just as quickly into first place by June 17. Then came a brief stretch when both teams were briefly headed in the same direction — downward. In mid-July, they resumed their contrary motion as the Giants rose for a second and last time into first place in the NL West, peaking with a 2.5 game lead on July 23, and the Royals descended by July 21 to their low point of the season, 8 games back.
Then they both reversed course again, with the Giants falling to 5 games back by August 15 and the Royals reaching their season apex of 3 games ahead on August 23.
Their pas de deux wasn't over even then, as the Giants resumed their pursuit of the Dodgers in earnest even as the Royals gave ground to the Tigers. On September 12, they arrived by opposing currents in exactly the same situation, 1 game back of their division leader with 15 games to play.
The Royals finished the season in just that position, while the Giants experienced yet another offensive outage and fell 5 games further behind the Dodgers.
In order for them to meet in the World Series, their postseason records to date have necessarily run more in parallel with each other. But now that they will be facing each other, they can resume their established habit of opposition.