Night one is over. Now just sit back and read about the Royals selections.
#17 Brandon Finnegan LHP Texas Christian University - Slot Value $2,200,600
The college lefty went from possible Top 5 overall pick to a mid-teens selection due to a shoulder injury that left him reeling in the final month of the season.
For the second straight year the Royals take a college player from Texas who's school colors include purple with their first pick in the draft. Finnegan was selected by the Rangers his senior year of high school but declined to sign and stayed close to home at TCU and eventually became a Friday night mainstay for the horned frogs.
In his Junior year at TCU Finnegan has posted a 2.07 ERA in 91 innings pitched. He has struck out 122 batters to go against 25 walks and has allowed 67 hits with just twelve extra base hits holding batters to a .206 average against him.
Finnegan flashed high-90's last summer while on Team USA, but lately he's sitting more low to mid-90's with his fastball. Finnegan credits his wipeout to his Team USA team mate Carlos Rodon. Finnegan's third pitch is an average change up.
Finnegan says he tries to emulate Derek Holland, but Holland is a bit taller.
He's the first player from TCU to be taken in the first round. Notable TCU alumni include Matt Carpenter, Andrew Cashner, and Jake Arrieta.
Rankings:
BP/PG: #15
Scout: #15
BA: #18
Garrioch: #18
ESPN: #24
ESPN Grades Current/Future:
FB 60/70
Curve: 50/55
Change: 50/55
Command 50/55
Report roundup:
There are two reasons Finnegan was still on the board: He's a TCU pitcher with an injury history, and he's 5-foot-11. If not for those things he would have been a top-12 pick for sure, given his fastball that sits at 92-94 mph and his breaking ball that flashes plus. If he moves to the bullpen, he could be closer, as he can get hitters out at both sides of the plate, but as a starter he could be a mid-rotation guy that helps who Kansas City rotation in a few years -- most likely 2016.
There's a lot to like about Finnegan, a left-hander with three above-average pitches and advanced feel for pitching.

Despite his small frame, Finnegan sits in the 91-93 range and will occasionally touch 98. His breaking-ball is more of a slurve -- which gets a negative connotation -- but there's good spin on the pitch, and if it can firm up could be a plus curveball at the next level. Finnegan also has a change that doesn't do much, but he knows when to throw it and there's no discernible difference in arm speed.

Finnegan also has excellent feel for pitching and pounds the strike zone with all three pitches. He generally hits his spots and repeats his delivery well. Unfortunately, the arm action isn't very clean -- he draws comparisons in stuff and arm action to Scott Kazmir -- and a team could see his size and volatility and try and fast track him as a reliever. That's probably just a fall back for Finnegan though, as his big fastball and feel for pitching could see him become a mid-rotation starter, possibly higher if the breaking-ball firms up.
Pick analysis: Had Finnegan been healthy the entire season, he could have gone in the top 10 picks and has some of the most electric stuff in the draft.
Scouting report: Even Finnegan's pitching coach, former big leaguer Kirk Saarloos, gives Carlos Rodon an assist for Finnegan's breakthrough junior season. TCU coach Jim Schlossnagle coached USA Baseball's Collegiate National Team last summer and brought the live-armed Finnegan with him despite an 0-8, 3.18 season. Finnegan rewarded his coach by running his fastball into the 93-98 mph range, and then became different pitcher when he learned a new slider grip from Rodon. He went from having a below-average breaking ball to a wipeout pitch. Finnegan hasn't quite had the same power he showed last summer, pitching more in the 90-95 mph range this spring, but his slider has power and late action. He still has his solid-average changeup and much more confidence now with his breaking ball. Scouts also point to improved pitchability as he has settled into the Friday starter routine as well. Finnegan is just 5-foot-11, 184 pounds, and his early departure from an April 25 start and subsequent skipping of a start with a stiff shoulder will raise durability concerns. He was scheduled to return to the mound for the final weekend of the regular season, and if he shows he's healthy could pitch his way back into the first 10 selections.
Standing under 6', listed at 5'11", 190 LBS, Finnegan wouldn't be as big of a prospect as a righty but he is blessed to be throwing from the left side. He is mature physically and likely won't add any velocity. He has a solid delivery with a ¾ arm slot and long arm action in back but he repeats it fairly well.

...

His fastball sits 90-95 but I have seen it up to 101 on a TV gun, which I'm sure was a little hot. I've heard reports up to 98. His command has improved since he was a freshman as has his stamina and ability to hold his velocity deeper into games. As a freshman, I thought I was watching a future closer. As a sophomore, he looked like there was a good chance to start and I think that remains.

He throws a 78-82 MPH slurve that has both horizontal and vertical break. It's a slow slider essentially. It's a good pitch but not the swing and miss pitch I'd hope for with a guy with that arm speed. I heard that he improved his slider while pitching for Team USA this summer, pitching with Carlos Rodon. Maybe be learned a new grip or changed his idea on what to do with it because he should be able to throw a great slider with his arm speed and delivery.

His change doesn't have a lot of movement but does have a bit of fade and he throws it similarly enough to his fastball and change that it is plays up. It's another average pitch and it allows him to be considered as a starter.

Although his command is erratic sometimes and he can lose his rhythm, when he is on, he can dominate. His consistency improved a lot from his freshman year to his sophomore year. His stuff is that of a #2 or 3 starter with a small chance he could be more than that. There is a chance that he could be a reliever, though too. He could be an impact high leverage reliever.

He's short, has an electric arm and good secondaries. His command needs to improve and his delivery is a bit more complex than I like to see but it adds to his deception. He's kind of a bulldog on the mound and that always makes me like the player a little bit more. There is a good chance he's a starter but he could be a reliever if his command doesn't improve. Overall he looks like a solid #3 or even a #2 starter with a good K rate and mediocre walk rate in the mold of Francisco Liriano. I expect him to be a high pick, maybe as high as the top 10.
#28 Foster Griffin LHP The First Academy HS, FL Slot Value $1,815,000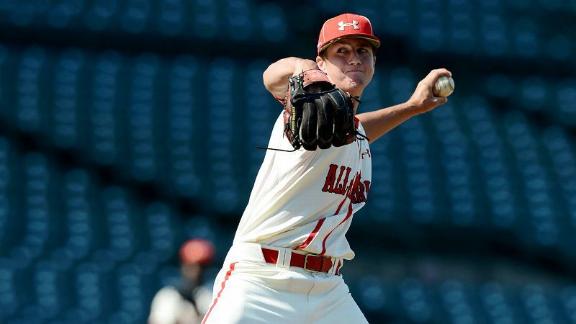 For the second year in a row the Royals took a lefty with their second pick as they popped prep lefty Foster Griffin who've they've been tied to at the 28th slot. The older high schooler is projectable and has a prime pitchers body to carry himself as a strike throwing lefty while pilling up innings.

Griffin saw his stock rise over the spring as he finished his senior year with a 1.55 ERA with 99 K's in 58 2/3 innings with 18 walks. He threw a 3-hit shutout to clinch his the championship at the National High School Invitation.
Rankings:
Scout: #31
BP/PG: #31
ESPN: #34
Matt Garrioch: #64
Grades:
FB: 50/60
Curve: 45/55
Changeup: 50/60
Command: 40/50
A year after Marlins unsigned third-rounder Ben DeLuzio became the highest-drafted player in The First Academy's (Orlando) history, Griffin is positioned to grab that title. Griffin teamed with Adam Haseley to form the top duo of senior lefthanders in the country. They led The First Academy to a championship at the National High School Invitational in March, tossing shutouts and hitting over .500 for the event in frigid conditions. Griffin presents a nice blend of present stuff, strike-throwing ability and projection. The 6-foot-3, 210-pounder has an ideal pitcher's build that is made to handle innings and has drawn physical comparisons to Cole Hamels. His fastball sits 88-92 mph, touching 94 with glove-side run and downhill plane, and he's capable of getting his fastball under the hands of righthanded hitters. He has advanced feel for an above-average changeup. His curveball has improved and shows enough spin to project as at least an average offering. The Mississippi commit is a strike-thrower who can command his fastball to both sides of the plate. He is the son of a former professional golfer, Fred, and is old for the class.
Griffin has some of the most projectable size in the class, and has shown significant progress over the past summer and during the high school season. His fastball sits 87-to-90 with the chance for more with good extension and some deception from his delivery. He'd have a chance for more deception if his high three-quarter delivery is lowered some. The left-hander?s curveball is 73-to-77 with good spin, but it lacks firmness and he can at times struggle to stay on top of the pitch. His change is his best secondary offering with fade and very good arm speed with good feel.

Mechanically, Griffin is still a work in progress. He has a low-effort delivery, but his front half will open up too early and at times his glove hand will finish towards his knee which leads to him missing spots. With some mechanical refinements and an improved breaking-ball, Griffin has No. 3 starter potential, with swing man or lefty-on-lefty reliever floor.
Reports are that the Royals were very much hoping Kodi Medeiros would fall to them with this pick, but I actually think they got a better pitcher in Griffin. His stuff reminds me of Mark Mulder as a left-hander who sits at 88 to 92 mph with a quality breaking ball and good feel for pitching. However, expecting him to be as good as Mulder is a mistake, as Griffin is still more projection than finished product. This is the second pitcher the Royals have taken, and it wouldn't surprise me if they took one more before the day is over.
#40 Chase Vallot C St Thomas Moore HS, LA Slot Value $1,420,800
DOB: 08/21/1996 (Age: 17)
Height/Weight: 6'0", 210 pounds
Bats/Throws: R/R
Commitment: Mississippi State
One of my favorites on the draft board and the best prep catcher in the draft if you think Alex Jackson is moving to the outfield.
Vallot, as seen by his picture, just looks like a power hitter. Vallot was the Gatorade Player of the Year in Louisiana and hit .545 in his senior year with 13 home runs. Vallot is questionable behind the plate though. He has a very strong arm and regularly puts up sub-2 pop times, but the footwork and receiving skills are poor.
Vallot is one of the youngest players in this draft class and he'll turn 18 in late August.
The Royals had Vallot out to Kauffman on Monday and he hit a ball into the Hall of Fame.
Rankings:
Scout: #33
Matt garrioch: #39
BA: #47
BP/PG: #51
Grades:
Hit: 40/50
Power: 55/65
Speed: 45/40
Defense: 35/45
Arm: 60/60
Report Roundup:
Vallot has big-time power and a plus throwing arm, but his hit tool and receiving skills both leave a lot to be desired.

His power comes from some of the fastest hands you?ll see in the class, and they help create plus bat speed and very good extension. That power is entirely to the pull-side, however, and Vallot doesn't show much feel for hitting or a willingness to go the other way with balls on the outer half of the plate. He often lets the ball travel too deep into the hitting zone before he swings, and he struggled with some of the better velocity he saw this summer.

Behind the dish, Vallot is improving as a receiver but still a work in progress. While not a plus runner, he does have enough athleticism to block pitches in the dirt and his arm strength is plus, but his overall receiver skills are poor, as is his footwork behind the plate. The bat might play if he was forced to move to first, but he's much more likely to become a regular if he can stick behind the plate.
Vallot is from a small town of fewer than 10,000 people, but he has always performed on big stages. He has some of the better raw power in the high school class, above-average or better, and won the home run derby at Perfect Game National at the Metrodome last June before falling to Jacob Gatewood in the finals of the Under Armour home run derby in Wrigley Field in August. Vallot struggled against velocity on the showcase circuit, showing swing-and-miss tendencies and a proclivity for chasing out of the zone against secondary stuff. But he has a quick, easy swing with natural leverage that produces hard contact and has drawn rave reviews this spring. His righthanded bat is his carrying tool, despite playing a defensive-oriented position. He has plus arm strength, although the arm doesn't consistently play at that level in game action. Vallot struggled to receive on the showcase circuit, especially out of the strike zone and can have what one scout called an "ejecto mitt". His footwork and blocking skills will also require improvement at the professional level. Although scouts are not confident he can stay behind the plate, they believe his bat has a chance to play wherever he lands on the defensive spectrum, including left field or first base, where he saw time on the showcase circuit. He is a below-average runner capable of posting well below-average times to first. His package as an offensive-minded backstop that could move to first base has drawn comparisons to Mike Napoli. Scouts say the Mississippi State commit is a baseball rat with a strong work ethic, which he demonstrated over the offseason by shedding 15-20 pounds from the summer. The thickly-built 5-foot-11 Vallot weighed 221 pounds at East Coast Pro but has played around 205 this spring. Monitoring his body composition will be key at the next level. Vallot is one of the youngest position players in the class and won't be 18 until nearly the end of the minor league season.
#56 Scott Blewett RHP Baker HS, NY Slot Value $1,003,200
Ht/Wt 6-6, 235 lbs.
Bats/Throws R/R
Commitment: St John's University
With their final pick of night one the Royals took prep righty Scott Blewett. He's going to be a tough sign it seems, but if they can get his ink on paper then he could be good value at pick #56.
Just looking at Blewett you can see he's an imposing pitcher and the body is set up to support himself over innings. Blewett was the New York Gatorade Player of the Year and was almost the first prep right handed pitcher taken in the first to come out of New York since 1990. Being from a cold weather place like New York Blewett has lower mileage on his arm and occupied his off season with hockey early on.
Blewett really hit the prospect scene in Minneapolis at the Perfect Game National Showcase receiving a perfect 10 score.
Blewett suffered a shoulder injury near the end of his season and missed two weeks, but in his final outing of the year was clocked at 95 MPH and threw four shutout innings.
Signability will be an issue here as Blewett has told scouts that he and his family have set a number and given them a "reach it or he'll go to school" demand.
Rankings:
ESPN: #20
Scout: #32
BP/PG: #42
Matt Garrioch: #44
BA: #51
Grades:
FB: 55/65
Curve: 45/60
Changeup: 40/55
Command: 45/60
Report Roundup:
Blewett is one of the top arms in a strong year for Northeast prep pitching. New York has not had a prep righthander go in the top two rounds of the draft since Steve Karsay (first round) in 1990, but Blewett could break that streak. He was one of the fastest-rising prep players to end the fall last year after a strong showing in Jupiter. The 6-foot-6, 213-pound Blewett looks the part in a uniform and has a major league body with strength throughout his extra-large frame. He is a former hockey player and offers surprising coordination, polish and athleticism for an arm of that stature from the Northeast who is also young for the class, recently turning 18. His fastball has sat 89-92 mph, touching 94 in the first few innings of some starts before slipping into the high 80s. Blewett leverages his fastball downhill with good extension out front and gets riding life through the zone. His curveball is a potential plus offering, which he pairs with a changeup that has average potential. The St. John's commit has average control, though he can occasionally be a short-armer.
ESPN
Analysis: He missed a start recently with a sore shoulder but came back and hit 95 mph in his final outing, throwing 71 pitches instead of a scheduled 25-30 (hey, thanks, Coach). I could see him signing for an above-slot bonus as some team's second or third pick.
Blewett was one of the best pitchers on display last fall, dominating the Jupiter Showcase and exponentially improving his stock. The right-hander attacks hitters with a low 90s fastball that will get up to 94 with potential for more, though there is very little movement.

His best pitch is a big breaking ball in the high 70s with 12-to-6 break and plenty of spin to keep hitters off balance. His change is still a development pitch at this point, but he has some feel for the pitch and improving arm action. He throws strikes from a high three-quarter slot, and his command projects to be above-average at the next level.

He faced poor competition in western New York, but Blewett looks like a potential No. 2 starter with as much upside as any right-hander in this year's class.
Whew. Almost 6000 words later and I'm done with this day finally at 1 AM now.
Overall I'd give the draft a straight B. I wanted a hitter with the first pick then with the next two picks to find the best prep arm available since this class was light on bats, but I'm happy with Finnegan at 17 though. I ranked him at 30 on my board due to the shoulder injury but reports tonight were saying the Royals are fine with his medicals. He went at basically the spot most rankings had him at. He'll be given every shot to stick as a starter and with his electric stuff I think he'll carve out a spot there.
I really like Vallot and think with a little refinement of his plate discipline and hit tool he could hit 20+ home runs even at Kauffman.
I'm not sure if Blewett is signable at his slot, but $1M+ is a nice thing to mull over for him.
I'm glad Kodi Medeiros went to the Brewers as now I'm afraid that the Royals would have taken him at 17. I like Kodi, but not at 17 and any team taking him is going to have a project on their hands. More front office reports came out saying they were going to avoid Medeiros due to the arm angle. Even so I'm still high on Kodi and I think his fastball and slider combo will play just fine as a starter.
So there you have it. The four new hopeful faces in the Royals farm system. The Royals still need to sign these guys, but they have until July 18th to do so.