Recently on our sister site Minor League Ball, John Sickels (the site runner) took volunteers for the annual community draft where we simulate the current years draft. Some volunteer GM's try to draft their picks as close to the organization as they can (such as a Phillies GM would look for high schoolers), while others (like myself) would aim for the best draft possible regardless of perhaps the parent organizations usual philosophies. Regardless of method, GM's have to realistically try to stay within the slot bonuses.
I've participated as the Royals GM the previous two years and will do so again this year. Here is the Royals shadow roster from the previous few drafts (dating further back than I started).
Player
Position
2014 Age
2014 Lg
2014 Stats
2015 Age
2015 Lg
2015 Stat
Notes

Sam Travis

C
20
A-/A
140/124 wRC+
21
A+
122 wRC+

Yasmani Grandal

C
25
MLB
111 wRC+
26
MLB
161 wRC+
BA #53 overall (2012), BP #38 overall (2012)

Eric Jagielo

3B
22
A+
132 wRC+
23
AA
165 wRC+

Drew Ward

3B
19
A
112 wRC+
20
A+
138 wRC+

Hunter Renfroe

OF
22
A+/AA
137/90 wRC+
23
AA
57 wRC+
BA #80/73 overall ('14 & '15), BP #50 overall ('15)

Bradley Zimmer

OF
21
A-
157 wRC+
22
A+
146 wRC+
Brother of Royals prospect

Kyle Zimmer

Spencer Adams
P
18
AZL
3.67 ERA
19
A
5.12 ERA 5.11 FIP
BA #100 overall (2015)
Erick Fedde
P
DNP
Injury
FG #95 overall (2015) - returning from TJS

Mark Appel

P
22
Rk/A+/AA
3.75/5.32/2.99 FIP
23
AA
3.71 ERA 4.20 FIP
BA #39/31 overall ('14 & '15), BP #21/35 overall ('14/'15)

Trevor Bauer

P
23
MLB
4.18 ERA 4.01 FIP
24
MLB
4.19 ERA 3.79 FIP
BA #9/14/83 overall ('12, '13 & '14), BP #11/24 overall ('12/13)
Charlie Lowell
P
23
A+
23
Released
Arrested for domestic battery, released by the Marlins
Kieran Lovegrove
P
19
A-
3.90 ERA 5.11 FIP
20
DNP
Yet to play in 2015
Dylan Cease
P
18
HS
19
DNP
Yet to play in 2015
Ryan Eades
P
22
A
5.14 ERA 4.44 FIP
23
A+
2.67 ERA 4.05 FIP
Dylan Covey
P
22
A/A+
3.41/4.82 FIP
23
A+
2.97 ERA 5.22 FIP

Jason Adam

P
22
AA/AAA
3.57/3.64 FIP
23
DNP
Yet to play in 2015; former Royals prospect
I was a big fan of Renfroe during the draft (preferring him over the Hunter that the Royals actually drafted that year) and happily took him when my turn came around. Cannon for an arm and 65/70 grade raw power, all he'd need to do is hit .250 or so in the majors and he'd be an easy big league regular. Like our Hunter, AA has proven to be a challenge thus far.
Pitchers are really tough to draft, huh?
Now onto to the main meat of this article: How should the Royals approach this Junes draft?
I waxed a bit the other day saying:
The State of the Farm:

So the current Royals farm system seems mixed. There is pitching and some hitting depth, but everybody seems to be somewhat underwhelming. Injuries have hurt a bit of the depth right now with Zimmer, Mondesi and Manaea all being hurt to start the year. Obviously this is only a small part of an overall career for them, but we should all be well aware of the capacity for injury the human body has and how it can derail the best laid tracks.

At the top of the org, pitching is probably the best. Zimmer and Manaea both present the ability to be front line pitchers with Finnegan and Almonte following behind them.

On the hitting side, Dozier, Starling, and Bonifacio (maybe Cuthbert) provide the potential bats but none of them are safe bets in the majors (at least in a prospect sense).

In the lower rings though there is a mix of both. Chase Vallot, Elier Hernandez, Ryan O'Hearn, and Marten Gasparini represent some names that have potential impact, while Foster Griffin, Scott Blewett, and Eric Skoglund (all coming from the 2014 draft) are candidates possibly for the Royals future rotation.

Needs?

Looking into the future of the big league club, since the sole purpose of a farm system is meant to stock the major league team, 2017/2018 seems to see a max exodus of an overwhelming number of core players. You could look at it two ways.

First, the 2015 draft should focus on someone who's near big league ready (ala Brandon Finnegan) that can help the club compete in it's current window, since the future window seems shaky with the amount of players due to leave.

On the other hand though, you could focus on guys who are at least 2-3 years out (think high schoolers) and start a new youth movement that is ready to fill in for the departing players

Maybe we could/should go this way:

1. Who's fallen to them? Are any of the consensus top-15 or so available? Has someone fallen because of an injury concern, but we think it is probably being overstated (like Brandon Finnegan or Sean Manaea)?

2. Highest ceiling pick with little concern for floor

3. Highest floor that could be ready soon

I'm open for whatever everyone thinks, but I think point #1 (fallen player) is what we should be looking for first.
One thing I really want to mention is the idea of best player available (BPA). By the time the Royals pick comes around at 21st overall, the concept of BPA doesn't really apply. BPA assumes there's a consensus one or two guys available at that moment, but it just isn't true. Scout X could like Player A, Scout Y could like Player B, and Scout Z could like Player C; there is hardly any unison after the first ten picks or so, especially in a draft like this years where after the first few picks it gets much weaker and divisive.
At that point it's basically up to the scouting director (sometimes the general manager) to step in and make an informed decision, but if the organization is weak on one side (whether it be hitter or pitcher) then that ultimately plays a role. That's has to be the delineation of the role though: hitter or pitcher, not pitcher, third baseman, right fielder etc...
Of course the cost of the player plays another large factor. Speaking of money, here are the Royals picks and associated slot value.
| | | |
| --- | --- | --- |
| Round | Overall Pick | Slot Value |
| 1 | 21 | $    2,184,200.00 |
| 1 | 33 | $    1,825,200.00 |
| 2 | 64 | $        964,600.00 |
| 3 | 98 | $        581,300.00 |
| 4 | 129 | $        431,100.00 |
| 5 | 159 | $        322,700.00 |
| 6 | 189 | $        241,700.00 |
| 7 | 219 | $        181,200.00 |
| 8 | 249 | $        168,000.00 |
| 9 | 279 | $        157,000.00 |
| 10 | 309 | $        149,700.00 |
| Total | | $    7,206,700.00 |
The James Shields comp pick is nice, making up 25% of the Royals overall pool and giving them an additional 33% extra what their original pool value would have been without it. Of course, a competitive balance pick would have been real swell too, but it's not like the Royals need that pick right since the CBL system is perfect...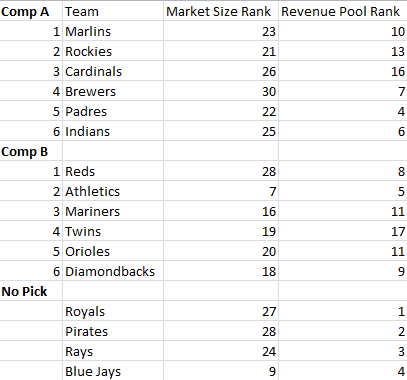 So what should the Royals do in the 2015 draft? I think it's always best to try to draft players who've dropped due perceived lower value. This could be a high school second baseman (Forrest Wall), a player with a non career threatening injury (Sean Manaea), or coming off/needing Tommy John (Lucas Giolito/Jeff Hoffman). That's kind of moneyball-ish isn't it?
Would you go for risk/reward and draft Brady Aiken? Take a player with average tools across the board rather than one standout skill (Jalen Miller)? Try to swing a tough sign away from their strong college commitment to an elite school (Mitch Hansen)? The higher floor college infielder (Richie Martin)? The "sure bet" mid-rotation college pitcher (James Kaprielian)? How about the former college pitching stud a few weeks removed from Tommy John (Mike Matuella)?