If a tree falls in a forest and no one is around to hear it, does it make a sound?
This philosophical question can be applied to today's Marlins/Mets game as there is no tv or radio. It was originally going to apply to the Royals/Rockies game but now MLB.com's Media Center is showing we'll have MLB.com audio for the game today and I lost my lead for this story.
So, instead, you get a picture of Nori Aoki's swing, a wonderful consolation prize. It's from the last time the Royals and Rockies played in the regular season, August 20th, 2014. The night before was win 17 out of 20, ending the infamous Sung Woo Lee-fueled streak that propelled the Royals into 1st place. Of course, Detroit would pass them up to win the Central but the Royals had a pretty good postseason and the rest is history.
On August 20th, Danny Duffy cruised through 5 before a Christian Colon error opened the door for a Matt McBride grand slam and four unearned runs en route to a 5-2 Rockies victory. Jorge De La Rosa got the win for Colorado while Jason Frasor and LaTroy Hawkins were the only other pitchers for their respective squads. Alex Gordon hit a solo shot, Erik Kratz knocked in the other run with a sac fly. Alcides Escobar had two singles and was batting 8th instead of leadoff while Omar Infante went 0 for 4, batting 2nd. Billy Butler, Josh Willingham, and the aforementioned Colon and Kratz all grounded into double plays. Aoki showed up in way too many pictures in the Getty archive despite only receiving one AB pinch hitting for Duffy.
Remember: most Spring Training games are now at 3:xx instead of 2:xx Kansas City time due to accursed Daylight Savings Time and Arizona's noble stand against it.
Since it's Spring training, a good time for tinkering with things, I was thinking about having a little easy-to-read box with all the info you needed for today's game. I'm testing out SBNation's native table editor (NOTE: It's been kindof screwy as I've been testing it- probably user error- so if you don't see a table below, oops). Thoughts?
0313.csv
| Time | 3/13 @ 3:10 CT |
| --- | --- |
| Time | 3/13 @ 3:10 CT |
| Opponent | Colorado Rockies |
| Location | Salt River Fields at Talking Stick |
| TV | None |
| Radio | MLB.com |
| Royals SP | Chris Young |
| Opponent SP | Antonio Senzatela |
Royals lineup below:
The #Royals travel to Scottsdale to take on the Rockies. Chris Young will get the start. #RoyalsST pic.twitter.com/AyBImsHNDo

— Kansas City Royals (@Royals) March 13, 2017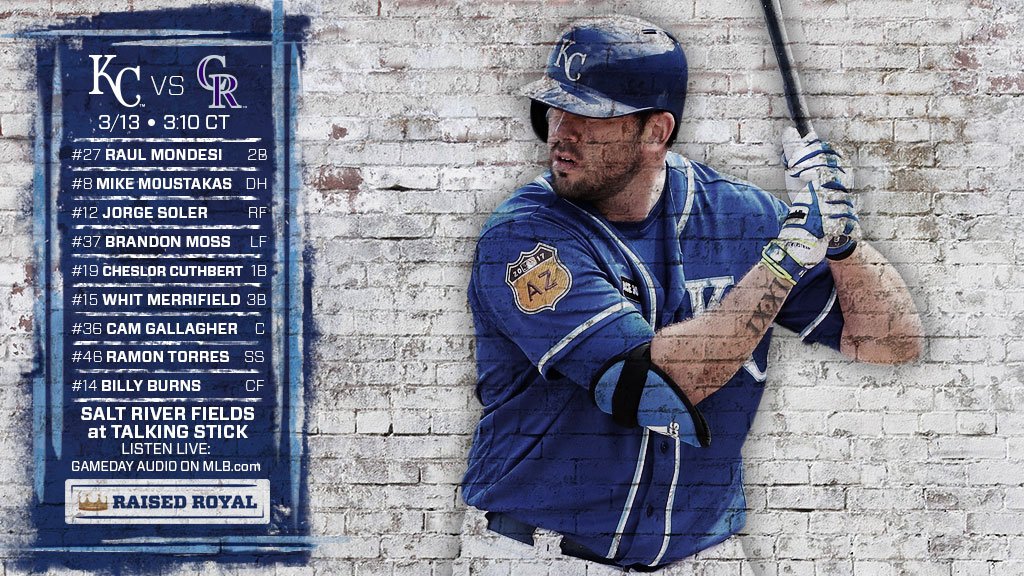 Baseball time.