When last we had left our intrepid Saturday baseballers, they were set to duel the hated Indians for the fate of the world, nay the universe.
Things started out well for the hometown squad as Jason Vargas, another Stout Royal, Granite Caramo, and Al Al Al Alburquerque shut out the Indians for 6 innings. Meanwhile, Whit "the hit walk" Merrifield drew a bases loaded walk in the 5th and Brandon Moss launched a 3-run homer in the 7th to give the Royals a 4-0 lead.
Unfortunately, Bobby Parnell, relief ace, ran into the Indians juggernaut offense of doom. An Abraham Almonte single, a Tyler Naquin double, and Richie Schaffer homer cut the lead to one. Parnell then walked a veritable Murderer's Row of Luke Wakamatsu, Greg Allen, and Jordan Smith. The latter two are so dangerous, they have not yet been unleashed upon major league pitching while the former is so frightening that he scared his picture off of MLB.com's page. After this traumatic experience, he was understandably removed from the game and replaced by someone in the witness protection program under the alias "Chris Withrow" who gave up a grand slam to one "Francisco Mejia", he of 26 home runs in 1276 minor league PAs. Thankfully, we've seen the last of him, as the Indians realized the folly of the ways, only too late. The damage had been done, the fate of the galaxy potentially sealed.
However, the valiant Royals bravely fought back in the 9th! Cheslor Cuthbert doubled. Garin Cecchini doubled. 7-5! Billy Burns singled! 7-6! He steals second! And takes third on a wild pitch! Oh those gritty Royals and their comeback ways! But it was not to be. The weight of the moment was too much for Moose-or-squirrel-Hos replacement Hunter Dozier and he struck out. The final hope, "Spring Hercules" Peter O'Brien? He also struck out. And the tying run was stranded at third.
There is yet hope! Surprise: Like a bad pun, rising from the ashes, this battle for spring moves to the sunnier(?) side of Phoenix! The second match is today. So long as the Royals can win today by more than 1, they will have the aggregate runs and the universe may yet be saved for another day (that's how baseball works, right?)!
Here's another stab at making a table in Chrous Beta. When I made the table on Friday morning (spoiler: most articles aren't written live or right before they're due), the SP is listed as TBA and I'm probably not updating the table. That said, the lineup should have it as that gets updated close to game time.
0318.csv
| Why can't you? | Make a table with no header? |
| --- | --- |
| Why can't you? | Make a table with no header? |
| Time | 3/18 @ 3:05 CT |
| Opponent | Cleveland Indians |
| Location | Surprise Stadium |
| TV | None |
| Radio | MLB.com |
| Royals SP | TBA (He's sooo dreamy!) |
| Opponent SP | Shawn Morimando |
Lineups are below
We're back in Surprise to take on the Indians! Here's how the #Royals stack up this afternoon. #RoyalsST pic.twitter.com/1zWrlqqCbm

— Kansas City Royals (@Royals) March 18, 2017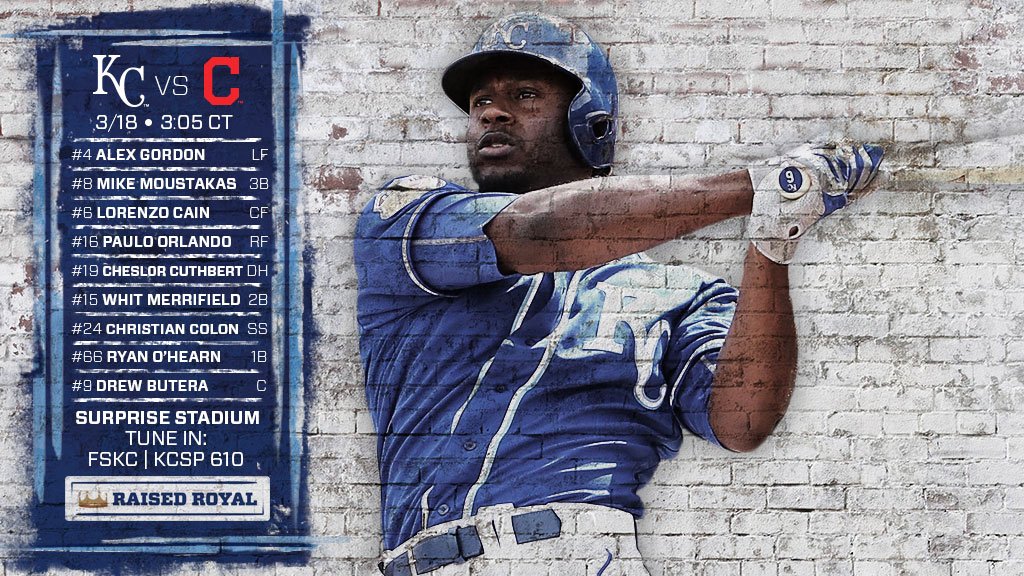 (Ed note: It's the first weekend of the tournament so my participation will probably be sparse.)
Updates:
Game will be on FSKC (but it's almost impossible to update tables so your update is down here)
Travis Wood will start with Chris Young to follow, according to kcroyals.com front page.