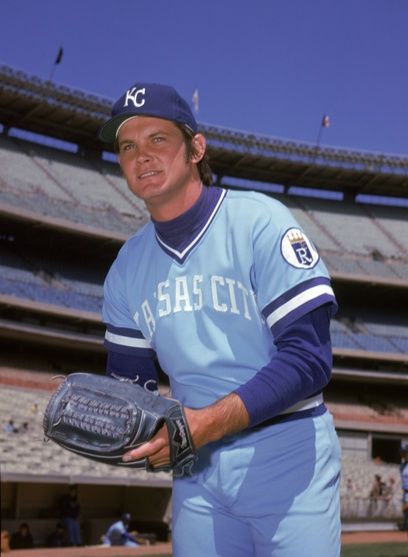 It was 45 years ago this week, on Friday, April 27th, 1973, that a heralded rookie pitcher named Steve Busby threw the first no-hitter in Kansas City Royals history. It's difficult to express how fast 45 years goes, but I remember the night just like it was yesterday.
The Royals arrived at Tiger Stadium to take on Detroit. Steve Busby was scheduled to make the start for the Royals, just the tenth start of his career. Busby was drafted in the second round of the 1971 amateur draft, after a standout career at USC, where he earned First Team All-American honors while leading the Trojans to the 1970 and 1971 National Championships. Busby made his major league debut on September 8th, 1972 after being called up from Omaha when Dick Drago took a line drive off the jaw, courtesy of Carl Yastrzemski. Busby had been the talk of spring training in 1973 after throwing six no-hit innings against the Tigers followed by seven no-hit innings against the Cardinals. He had a plus fastball, a decent curve and a sharp breaking slider. In '73 he had gotten off to a shaky start. In his previous start, against the White Sox, Busby had only lasted one inning, giving up five runs on four hits and a walk. He feared that another disappointing game could send him back to Omaha.
In 1973, my family lived in Lincoln, Kansas. I had been a Royals fan since their 1969 inception, spending many an evening listening to Bud Blattner and Denny Matthews call games on the radio. I was in 8th grade in 1973 and about the time Busby and the Royals were warming up, we were arriving in Beloit for a junior high track meet. I was only 12 years old at the time, being that my parents started me in kindergarten as a four year old. The early start wasn't because I was an advanced student by any means. My sister would have been one year old and my mom probably just had her hands full. I tell you this as it relates to track. Since I was 12 months younger than most of my classmates and as much as 20 months younger than some classmates who had been held back, I was naturally smaller and slower than most of them. Much to my surprise, our coach, Mr. Everhart, entered me into the 100 yard dash.
The weather in Detroit was miserable, cold, overcast and windy. Busby sailed through the first three innings, facing only ten batters, recording four groundouts, four fly balls and one strikeout. A two out walk to Norm Cash with two out in the second was the only blemish.
In Beloit, it was a beautiful spring day, low 70's, sunshine, and no wind, a perfect evening for a track meet. About the time Busby was retiring Jim Northrup on a comebacker to end the third, we were lining up for the 100-yard dash. My grandfather was a ten second 100 yard dash runner in high school. He ran so fast that his teammates nicknamed him Buzz, because it sounded like a buzz when he sprinted past them. Unfortunately, I did not inherit his speed. There were five heats that night. The first heat was the really slow kids, with each heat running progressively faster boys. I was in the third heat, which is where they put the kids that they didn't know what to do with.
The 4th inning was a struggle for Busby. Light hitting Aurelio Rodriguez led off and hit a sharp liner, but right at shortstop Fred Patek for the first out. Rich Reese then drew a walk. The next batter was the dangerous Bill Freehan. Freehan hit over 20 home runs in three of the past five seasons. This was his 12th season and he was a professional hitter. Busby immediately threw a curve past catcher Fran Healy, advancing Reese to second. Freehan drew another walk, putting men on first and second with only one out. Gates Brown, a left handed batter with some power, bailed out Busby by hitting a sharp grounder to Cookie Rojas to start the 4-6-3 double play to end the inning.
The first two heats had been run when the starter announced "runners to your mark". Nervous, I settled into the blocks. I didn't own track spikes, only white Chuck Taylor low top sneakers. Get set. Bang! I got a good start and started pumping for the finish line. I was in lane four, smack dab in the middle. I glanced to my left and to my right and was surprised to see I was close to the lead. I crossed the line in a surprising third place. Granted it was only a heat. There would be no ribbons or medals. I was surprised and pleased with my finish.
As I was crossing the finish line, things were heating up in Detroit. Ed Kirkpatrick led off the 5th with a solo home run off of Jim Perry, giving the Royals a 1-0 lead. Busby cruised through the Tigers in the 5th, giving up only a leadoff walk to Norm Cash. Perry worked around two-out singles by Lou Piniella and Kirkpatrick to escape the 6th.
The Lincoln Track team loaded the bus for the thirty mile ride back home. I sat up front to visit with Mr. Gorsuch, our Principal. He had nicknamed me Birddog for my ability to spot deer and pheasants during the school bus rides. He, like me, was a bird hunter. On bus trips to football or basketball games, he would often yell out, "Hey Birddog, come set up front," where we'd spend the trip talking about pheasant and duck hunting.
Busby walked Freehan to open the 7th. After throwing two balls to Gates Brown, Royals manager Jack McKeon made a trip to the mound to settle down his young phenom. McKeon got Ken Wright and Tom Burgmeier up in the bullpen, just in case. Freehan advanced to second on a fielder's choice by Brown. Busby threw the next pitch past Healy which advanced Freehan to third with just one out, but Busby buckled down, striking out Norm Cash and getting Dick McAuliffe on a short fly to Lou Piniella in left.
In the 8th, Amos Otis turned on a Perry fastball and lined it into the left field seats to give the Busby a little cushion. The Tigers' 8th was an easy inning, as Busby got Mickey Stanley, Ed Brinkman and Northrup on a fly ball, strikeout and ground out trifecta. The Royals added an insurance run in the 9th with Kirkpatrick slapping his third hit of the game, later coming around to score on an error by Tiger third baseman Aurelio Rodriguez.
As our bus pulled into town, Busby would have been trotting out of the dugout to face the Tigers in the bottom of the 9th. Busby struggled with his command, issuing a seven pitch walk to pinch hitter Duke Sims. On the second pitch, Rich Reese yanked a screaming line drive down the right field line that sliced foul. Two pitches later, Reese blistered a line drive straight to John Mayberry, who was holding Sims on first. Big John almost casually caught the liner and stepped on first, doubling up Sims. Sims, caught between first and second, had an aw shucks look on his face, kicking the infield dirt before returning to the dugout. Busby made one pitch to Bill Freehan, who hit a short popup that Patek caught, setting off a mob scene behind the mound.
I stepped into the front door of my house, anxious to tell my parents about the race. I could tell when I walked in that something exciting happened. My dad met me with a smile on his face and told me that Busby had just pitched a no-hitter. I was sad to have missed it, but I figured that there would be more chances in the future. Busby had face 31 batters, walking six. He registered four strikeouts and was aided by two double plays. After the game, Busby said "I know it sounds ludicrous to say I didn't pitch well, considering I threw a no-hitter, but every time I threw a strike, I think it was a surprise to the Detroit hitters. I was all over the place. The weather was miserable though, and the Tigers weren't really interested in trying to hit".
The no-hitter was the first in Royals history and also the first in a game in which the Designated Hitter was used. In his next start, Busby took a no-hitter into the 6th inning before Dave May broke it up with a home run. Blurry video of Busby closing out the Tigers in the bottom of the ninth can be seen on YouTube. This game marked the ascension of what would be a short and brilliant career for Steve Busby.